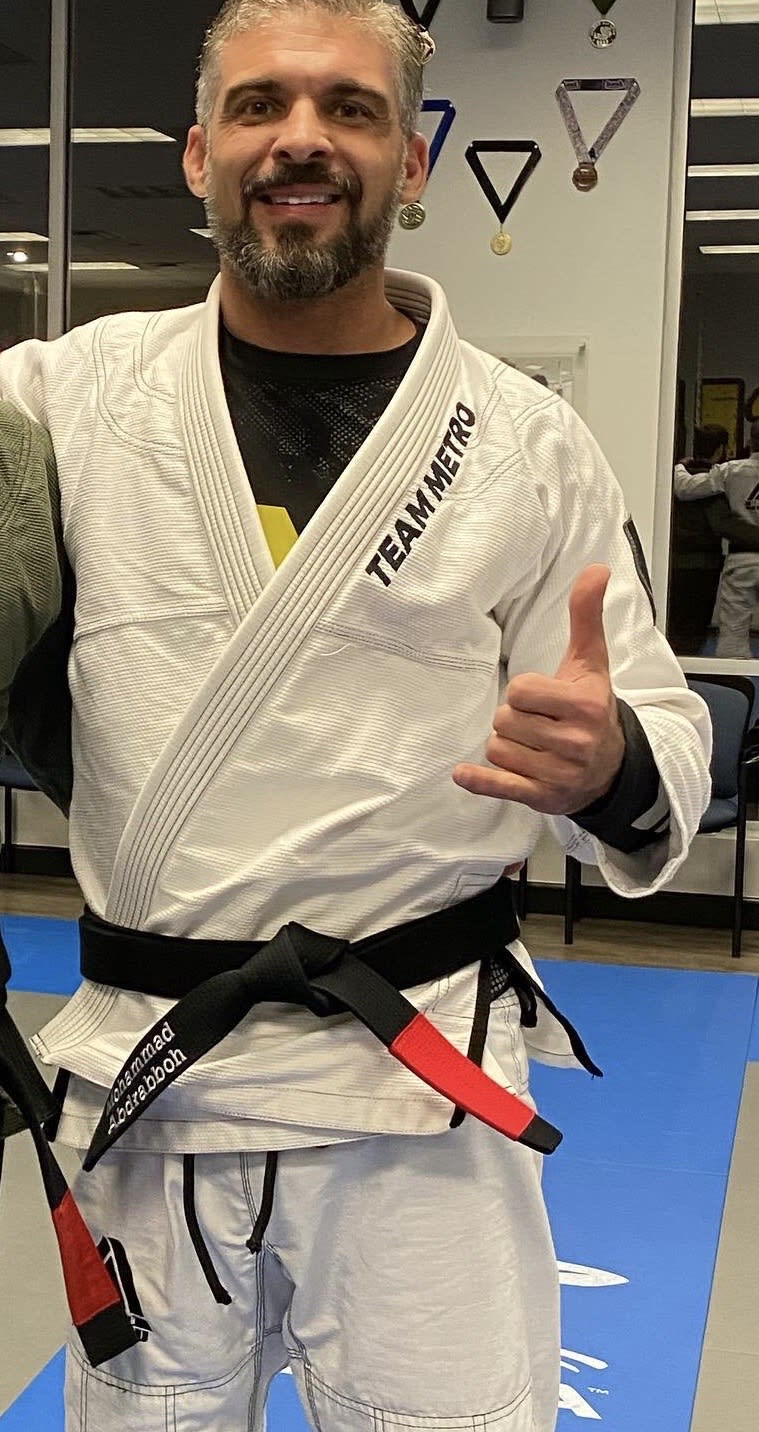 Professor Mohammad Abdrabboh
Metro Jiu-Jitsu head instructor Mohammad Abdrabboh has spent the last 30 years exploring his passion for martial arts. He is a Black Belt in Brazilian Jiu-Jitsu under Danny Alvarez.
As a teenager and then young adult, Mohammad struggled to rise above life's challenges. Seeking a means to learn self-defense and find positive outlets for frustrations, Mohammad began his martial arts journey. He studied taekwondo, hapkido, akidoko, judo, kickboxing, boxing, eskrita stick fighting and MMA fighting. Each type of martial arts offered Mohammad an outlet to channel his energy and fulfill his desire to excel.
As Mohammad began to successfully flourish in his professional career, marriage and fatherhood to their 6 children, martial arts and daily exercise remained an integral part of his routine. Yet, the yearning to master one form of martial arts remained deeply rooted within him.
A friend introduced him to Brazilian Jiu-Jitsu in 2006 and the spark was lit. The passion and thrill for the sport has remained through all the years of practice and competitions. Jiu-Jitsu is the first art that pushed Mohammad's level of physical exertion to the point of mentally consuming all his focus and energy. The stresses of work, family commitments and to-do lists drift away during a Jiu-Jitsu session while he fights to stay on top.
The joy of his personal development in Jiu-Jitsu has reignited a dream to own a martial arts school and positively impact the lives of others. Combining his talent as a corporate trainer in human peak performance along with his experience in sports and athletic training, Mohammad has the tools to successfully lead others to be the best versions of themselves. He has traveled across the country and as far as the islands of Fiji studying human psychology and the psychology of success. Mohammad has a keen understanding that mastery is more than reaching the highest pinnacle within your sport. It's about pushing yourself beyond your limits, turning negatives into positives and digging deep inside yourself to find the strength to forge your own path. Metro Jiu-Jitsu is the tool Mohammad uses to support people in that vision for themselves.
Toledo BJJ Open First place novice 2010
Michigan Open First place novice 2011
International Brazilian Jiu-Jitsu Federation Chicago open Second place blue 2013
American Grappling Challenge First place purple 2014
International Brazilian Jiu-Jitsu Federation Chicago open First place purple 2015
North American Grappling Association (NAGA) world championship Second place purple 2014
NAGA First place purple 2015
Elite Grapplers Federation First place purple 2015
Modern Flow no GI First place brown 2015
IBJJF Dallas Open Masters 4 Division 2019 1st Place
IBJJF Dallas Open Open Weight 2019 2nd Place